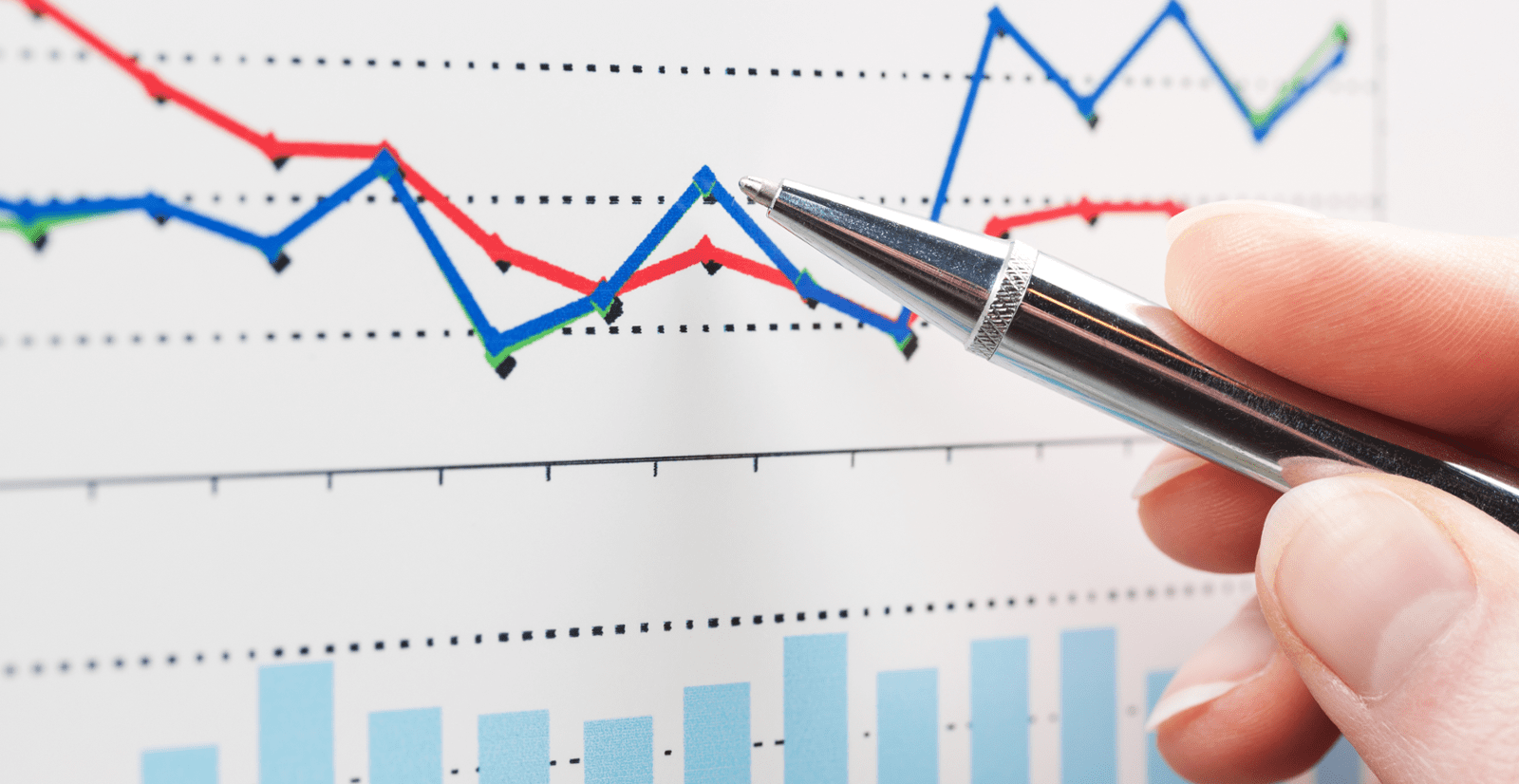 We all have the same question. Is the promised "bankruptcy boom" on it's way? After the success of the first "Bankruptcy Trends During COVID-19" infographic in June 2020, the team at LeadQ knew clear data was needed to help answer this question for their clients and attorneys across the country.
Once again, data compiled from LeadQ bankruptcy inquiry campaigns, Google analytics and trends, and EPIQ/AACER Court Data gives a big picture view of how the Coronavirus is impacting the bankruptcy industry.
Let's break down four key statistics and their impact - Google searches, Chapter 7 filings, LeadQ campaign impressions, and qualified inquiries. Keep reading for a regional breakdown and a forecast for August 2020.
NATIONAL BANKRUPTCY TREND DATA - JULY 2020
Combining leading data - Google searches - with trailing data - Chapter 7 filings - provides a picture of national bankruptcy needs.
Google does not release exact search data, but their search trends tool rates the popularity of search terms over time. It's an invaluable tool for checking trends and behavior across Google Search, Google News, Google Images, Google Shopping, and YouTube.
Searches are rated in popularity from 0-100 with 100 being peak popularity and 0 meaning there is not enough data to even rank the term. There is no direct conversion rate for volume, but search popularity is an excellent indicator of the national mindset on a topic.
As indicated below, an increase in ten points from April - June/July is a massive uptick in search rates for "bankruptcy attorney." This "leading data" suggests many more people will be looking to file over the next few months.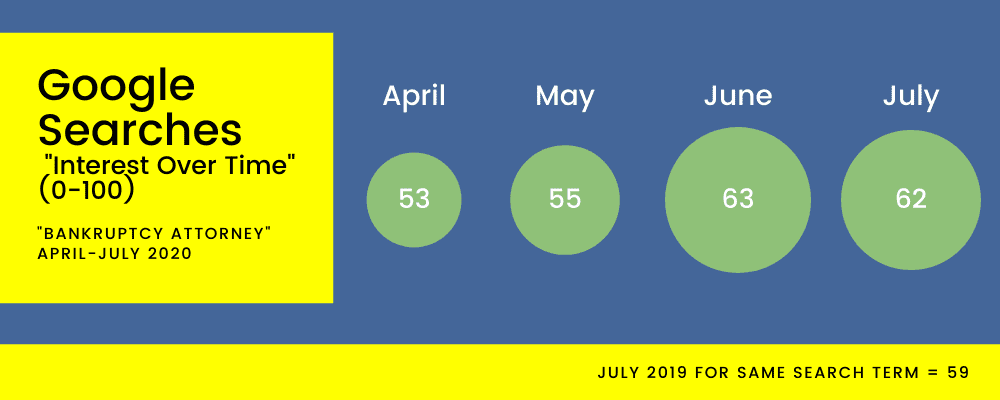 On the opposite end of the spectrum, we have trailing data in the form of Chapter 7 filings. These people likely contacted their attorney one to two months before actually filing. Therefore, June and July filings are as a result of initial interest from approximately April/May.
Heading into June there was a 72,000 deficit in filings from 2019. After July the gap has started to close with the filing deficit dropping to ~50,000. This is encouraging news for the months ahead.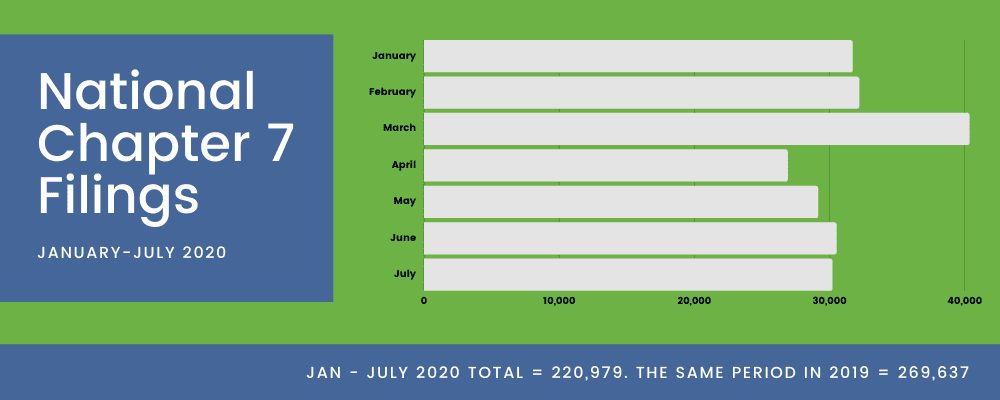 LEADQ BANKRUPTCY TREND DATA - JULY 2020
With clients and active bankruptcy marketing campaigns running all across the country, LeadQ is uniquely positioned to see industry changes in real-time. It will be no surprise to hear the bankruptcy industry took a big hit in April 2020. But, bankruptcy clients didn't disappear, they were put on hold.
LeadQ campaign impression data is a direct, real-time snapshot of how many people are searching for bankruptcy attorneys in any given month. As LeadQ clients will know, LeadQ advertising captures potential clients when they are actively searching and ready to retain an attorney. This may be the most important statistic we have to show true trends during this time.
Searches in LeadQ campaign areas increased by nearly 10,000 in July. This is excellent news as typical seasonality has bankruptcies falling from a peak in March through to July when they start to pick up again in August.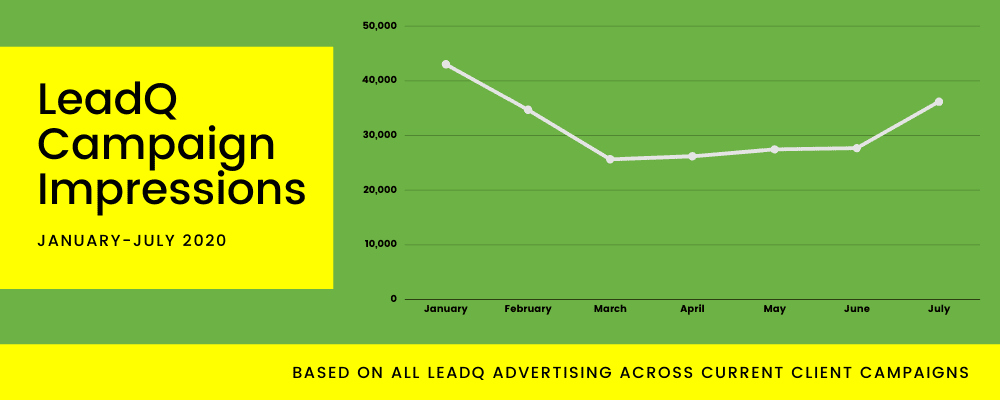 Following impressions, the next logical step is to track conversions to qualified bankruptcy inquiries - ie potential clients. Here you can clearly see the real-time depression from March to April with a slow but steady increase over May and June. July was clearly a banner month with a 48% increase in qualified inquiries.
To clarify, this chart shows distilled numbers from all calls and emails to LeadQ clients into only those determined qualified for bankruptcy.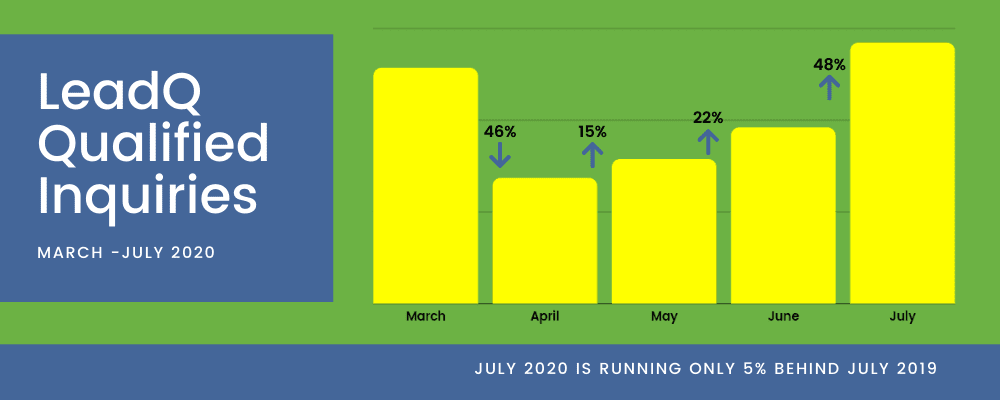 REGIONAL BANKRUPTCY TREND DATA - JULY 2020
For data a little closer to home, LeadQ also looks at qualified inquiries on a regional scale. While still broad strokes, breaking the country into West, Midwest, Northeast, and South offers an interesting view. While a general upward trend can still be seen, the differences from coast to coast could be attributed to timing of state lock-down and openings.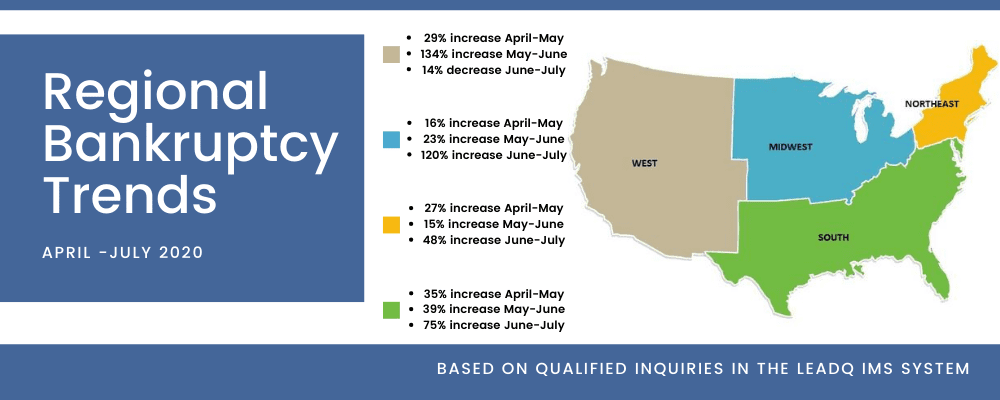 WHAT COMES NEXT?

So, now the big question - what will happen in August? Across the country, the federal $600/week unemployment benefit ended at the end of July. There have been a lot of promises from the government about potential new federal unemployment benefits, but so far nothing has been decided or implemented.

Also, August is a historically low month for bankruptcies with many people pushing thoughts of money troubles to the side in favor of vacations and getting children back to school. It's likely many people will wait and see what the next few months will bring before making a move toward bankruptcy.
So, will the boom happen in August? LeadQ doesn't think so. The first two weeks of the month have been steady but without a massive rise indicating a rush in need for bankruptcy attorneys. LeadQ will continue to monitor and share their data with clients and the community. In the meantime, their campaigns have been adapted specifically for the current COVID-19 environment and are proving successful encouraging people to take care of their troubles sooner rather than later.

Come back next month to see what happens in August.
**************************************************************************************

LeadQ is a leader in new client acquisition programs for bankruptcy attorneys. With their unique performance-based approach, clients pay only for the "qualified" bankruptcy Inquiries generated. LeadQ has, for the last 12 years, been successfully helping attorneys across the country grow their firms. To learn more, fill out the contact form below and a representative will reach out to you.
We'd love to hear from you about your firms experiences during COVID-19. Did you see a similar growth period of June and July? Are courts currently working virtually? Please share in the comment section below.